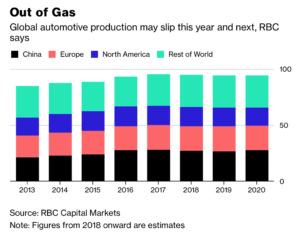 What is the state of the Chinese economy? Growth estimates for 2018 differ widely between the official 6.x percent, down to less than 2 per cent.
A strong indicator of weakness is the official car sales number for 2018. It declined, for the first time since 1990, by almost 6 per cent to 22.7 million units. December numbers were even 19 percent below last year, as Bloomberg (CAAM) reported.
The market of combustion engine cars (i.e. gasoline or diesel driven) suffered even more because the sales numbers of electric cars rose, thanks to generous government and municipal support. The fleet of new battery-electric cars (BEV) and plug-in hybrids grew strongly to over 1 million units in 2018 and may reach 1.6 million units in 2019 as strict quotas come into force.
But problems are not confined to the Chinese market. The headline-grabbing diesel car scandals may mask a global sales crisis of gasoline/diesel cars, as a recent study by RBC Capital suggests (see image above). Main reasons are urban smog policies, quickly rising electric car sales and new mobility services such as car-sharing or Uber-like products.
As for China, early estimates indicate a stagnation or another decline of car sales in 2019, unless car ownership restrictions in major cities will be relaxed.
As for global markets, RBC Capital expects a decline by 0.6 million to 94.6 million car sales (all drive types) in 2018 and another drop by 0.4 million in 2019. That is a clear break from the trend in the years before. Sales number for 2013 amounted to just 84.7, followed by steady growth until 2017.
As electric car sales (BEV, PHEV) are expected to grow by at least 0.7 million in 2018 und more than 1.0 million in 2019 there is little hope that combustion engine car sales will resume the growth path any time soon. Only in hindsight we will know if 2018 was the "peak combustion engine car" year.
Source of the chart shown above: https://www.bloomberg.com/news/articles/2018-12-19/the-global-auto-industry-is-likely-in-first-recession-since-2009
Find more on the latest electric car trends in the next edition of our Global Energy Briefing (German/English version available)