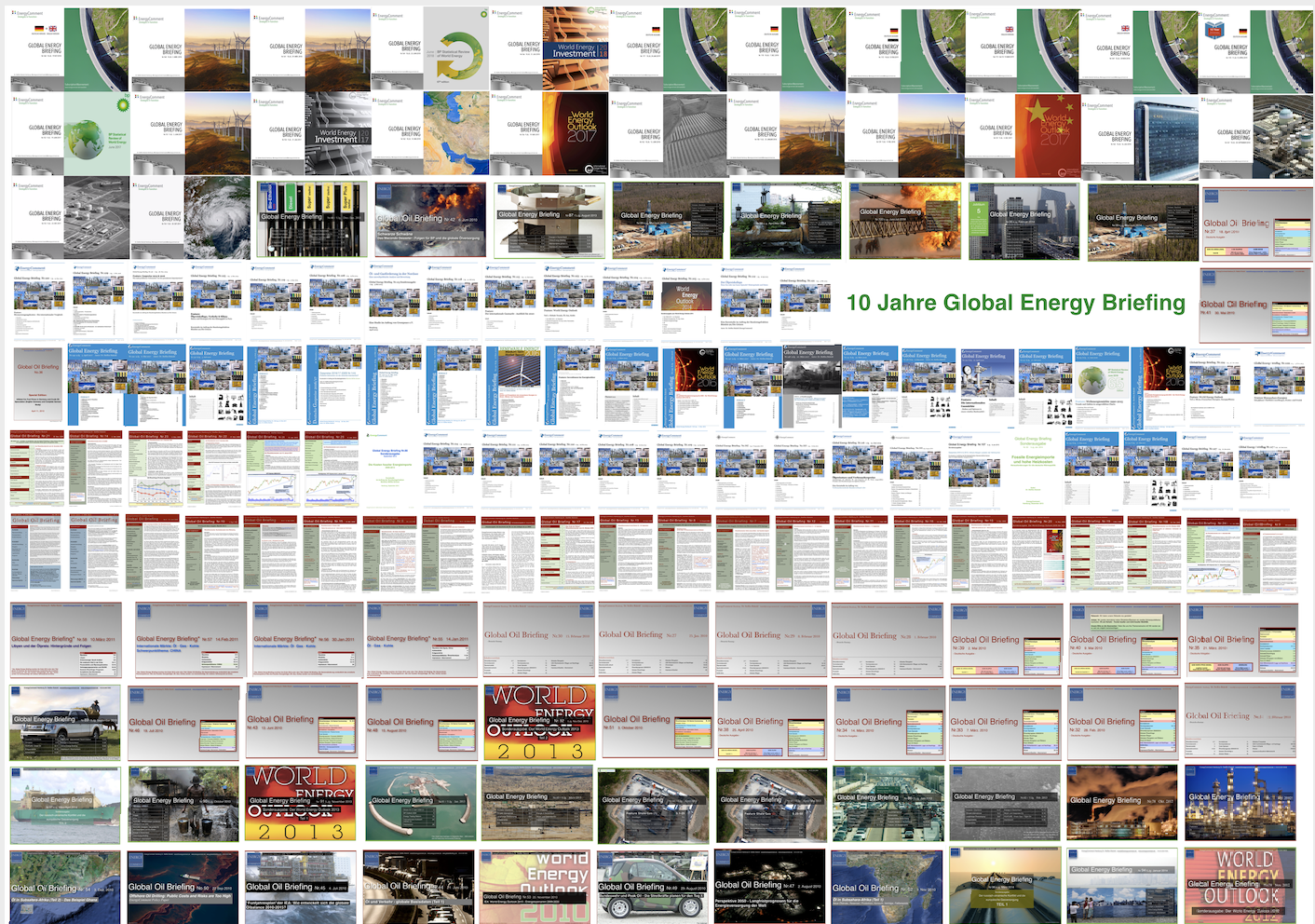 Global Energy Briefing (Deutsch / English)
Seit 2009: Deutsche Version
Der Fachnewsletter Global Energy Briefing (GEB) erscheint seit dem Jahr 2009. Eine Übersicht über die Themen der aktuellen und früheren Ausgaben finden Sie in unserem Blog. Eine Liste der Ausgaben mit speziellen Features finden Sie unten auf dieser Webseite.
Seit dem Herbst 2018 enthalten die Newsletter im ersten Teil Preis- und Markttrends auf den internationalen Energiemärkten, und im zweiten Teil die Strategiekapitel, die sich mit den Strategien von Energiekonzernen und Branchentrends beschäftigen. Die Spannbreite reicht von Ölmultis über Stromversorger bis zu den Produzenten von Solarmodulen, Windturbinen und Batterien alle relevanten Branchen. Wir präsentieren und analysieren die Strategien vor dem Hintergrund der wichtigsten Markttrends und der globalen Energiewende.
Der Newsletter ist in deutscher und seit Oktober 2018 auch in englischer Sprache erhältlich. Er erscheint alle 2-3 Wochen. Die Konditionen finden Sie unten auf dieser Seite.
Interesse? Probeexemplare? Einfach Email an: bukold@energycomment.de oder rufen Sie an: 040.20911848 (Hamburg).
Since 2019: English version available
Subscribe to our professional newsletter Global Energy Briefing, launched in 2009. Please read our Blog to see the topics of recent issues. You can find earlier topics at the bottom of this page (German only). Since October 2018 the newsletter contains (1) market chapters, with an emphasis on oil, gas and coal prices and major market trends,  and (2) strategy chapters on energy companies and industry trends. Here we track and compare the strategies of large energy companies. Our approach is multi-disciplinary and covers all relevant energy industries – ranging from integrated oil & gas companies to utilities,  solar module, wind turbine, and battery manufacturers. We embed this analysis into industry trends and low-carbon policies.
The newsletter is available in English and in German. The contents are identical. It is published about bi-weekly (except December and August). Please see below for further details on the subscription.
Please contact us for further information (Hamburg +49.40.20911848, Dr. Steffen Bukold, bukold@energycomment.de) or subscribe directly via email or our contact form: Contact
1-5 Readers
including 19% German VAT
c.20 issues per year
Archive: yes
Company or Organization
including 19% German VAT
c.20 issues per year
Archive: yes
Trial Subscription (Probeabo)
including 19% German VAT
3 issues
Archive: no
For subscribing or for further details:
Please mail to: staff@energycomment.de
or call +49.40.20911848
Languages: German, English, Dutch; Mandarin
Archiv (2009-2018)
Liste früherer Ausgaben des Global Energy Briefing, die ein Feature enthalten. Standardausgaben ohne Feature werden nicht aufgeführt. Abonnenten können alle Ausgaben kostenlos nachbestellen.