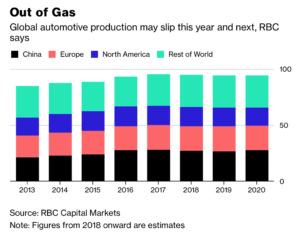 What is the state of the Chinese economy? Growth estimates for 2018 differ widely between the official 6.x percent, down to less than 2 per cent.
A strong indicator of weakness is the official car sales number for 2018. It declined, for the first time since 1990, by almost 6 per cent to 22.7 million units. December numbers were even 19 percent below last year, as Bloomberg (CAAM) reported.
The market of combustion engine cars (i.e. gasoline or diesel driven) suffered even more because the sales numbers of electric cars rose, thanks to generous government and municipal support. The fleet of new battery-electric cars (BEV) and plug-in hybrids grew strongly to over 1 million units in 2018 and may reach 1.6 million units in 2019 as strict quotas come into force.
But problems are not confined to the Chinese market. The headline-grabbing diesel car scandals may mask a global sales crisis of gasoline/diesel cars, as a recent study by RBC Capital suggests (see image above). Main reasons are urban smog policies, quickly […]